Colaiste Treasa: Vex Robotics National Tournament Champions 2016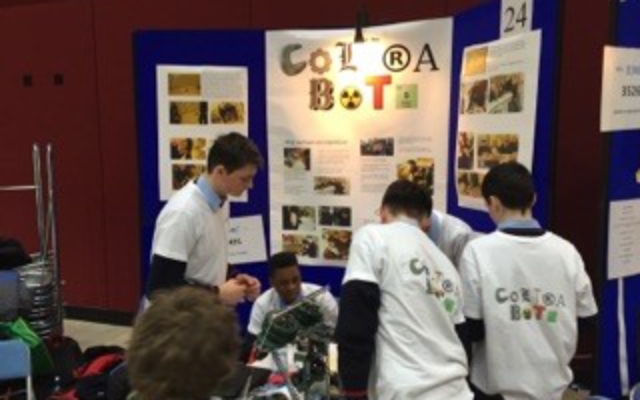 Colaiste Treasa entered their first Robotics team for the VEX Robotics Tournament held in CIT on the 31st of January 2016. In the lead up to this competition our team built and programmed a robot with the ability to carry out the task set out by VEX Robotics. This involved picking up colour coordinated balls worth different points and firing them into either a high net (like basketball) or a low goal. Originally our robot only had the ability to score in the low goal. Even though it was only our first year, our team was very ambitious and after hours of designing, engineering and building we eventually managed to programme the robot to shoot balls into the high net also.
Tournament day was buzzing with excitement. The day began with all robots participating, going through a series of inspections. Joseph, one of our team builders, described this to be "the first test" because if our robot failed the initial inspection we would have had to return home without participating in any of the matches.
Throughout the day we played matches against and with each team. During these matches the number of points scored was crucial as it determined whether or not we got through to the final matches.
Luckily we qualified for the final matches. We were all ecstatic at this point. David one of our team members at this point commented " our first year and we got through to the finals I can't believe it ". We got through the quarter and semi finals with our partnering team Nagle community school from Mahon, Cork city. The final match was played in three heats against Davis College, Mallow. Everyone in the hall gathered around the arena with anxious excitement screaming for their preferred team.
Davis college won the first match by default because our robot misbehaved during the autonomous period, while we won the second. It was all to play for as the final match began. The final match finished with the nets looking very close. It was too close to call simply by inspection.
The scores were released and we couldn't believe it, we had beaten Davis college by one point.
We were relieved, excited and thankful that all our long hours of hard work had finally paid off.
We hope to return this year and defend our title "National Tournament Champions".
ColáisteTreasa Robotics Team 2015/16